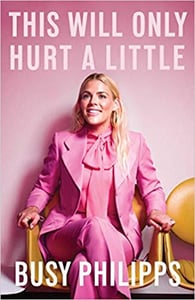 $

27.00

This Will Only Hurt A Little
Busy Phillipps

SIGNED

In This Will Only Hurt a Little (Touchstone, 320 pp., hb.) there's no stopping Busy Philipps. From the time she was two and "aced out in her nudes" to explore the neighborhood (as her mom famously described her toddler jailbreak), Busy has always been headstrong, defiant, and determined not to miss out on all the fun. These qualities led her to leave Scottsdale, Arizona, at the age of nineteen to pursue her passion for acting in Hollywood. But much like her painful and painfully funny teenage years, chasing her dreams wasn't always easy and sometimes hurt more than a little.
Shipping orders will ship after her event on Sat., Oct. 20.
Orders for pick-up will be available at Blue Bicycle Books (420 King St.) following her event.